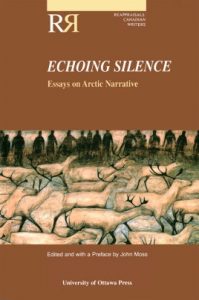 David C. Woodman is a contributor to this collection of essays which is edited and prefaced by John Moss.
The North has always had, and still has, an irresistible attraction. This fascination is made up of a mixture of perspectives, among these, the various explorations of the Arctic itself and the Inuk cultural heritage found in the elders' and contemporary stories.
This book discusses the different generations of explorers and writers and illustrates how the sounds of a landscape are inseparable from the stories of its inhabitants.
ISBN  9780776604411, 240 pages
Published by University of Ottawa Press
Released October, 1997
Published Reviews
COATES – This fascinating collection of essays assembled by John Moss similarly illustrates the complexity and richness of northern research, for it draws together work by literary critics.
Ken Coates, History and Politics, University of New Brunswick at Saint John. P.O. Box 5050, Saint John, New Brunswick, Canada.